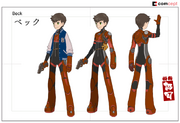 Beck (ベック) is a 16 years old boy who teams up with his partner Tyger, aiming to hit it big as Delvers. He is very dexterous and excels in using his fleet-footedness in battle, and adept at infiltration into the most heavily guarded areas.
His left arm can be interchanged with different types of tools and weapons, allowing him to adapt to any situation or terrain.
Ad blocker interference detected!
Wikia is a free-to-use site that makes money from advertising. We have a modified experience for viewers using ad blockers

Wikia is not accessible if you've made further modifications. Remove the custom ad blocker rule(s) and the page will load as expected.